We are always looking at new ways to innovate our software and make dentists lives easier, listening to our customers feedback and looking at how we can address their needs.
Following recent feedback we have now added the option to record a Basic Erosive Wear Examination (BEWE) within Dentally.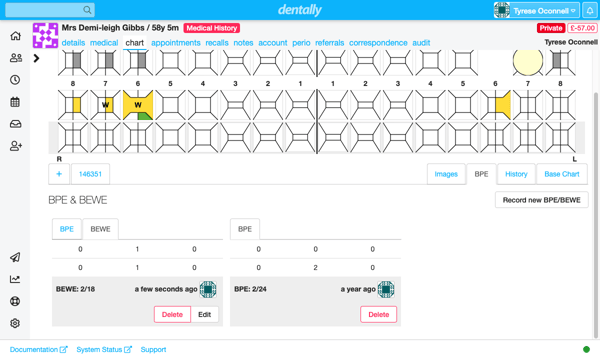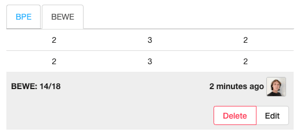 As the BEWE exam is often taken as the same time as a basic periodontal examination (BPE) we have added the ability to record the BEWE at the same time as BPE.
How does it work?
A new BPE is recorded as before, but a new tab in the exam is available to also record the BEWE results. When the results are saved, the saved exam will have two tabs, showing either the BPE or the BEWE results. If only one set of results is entered, only the relevant tab will show.
Like BPEs, Dentists are required to take six readings for the entire mouth - one reading per sextant. Each reading is scored on a scale of 0-3:
Code 0 - No enamel tooth wear
Code 1 - Initial loss of enamel tooth surface texture
Code 2 - Distinct defect, hard tissue loss <50%
Code 3 - Hard tissue loss >50%
We have designed this new feature so only a score of 0-3 will be accepted, all other inputs will be rejected.
The cumulative total score for all recorded sextants are displayed vs a maximum possible score. The maximum possible score is calculated as the number of sextants recorded * 3. e.g. a maximum of 18 if recording a score for all 6 sextants.
If you would like to find out more about this new feature and how charting is simple with Dentally, simply email us hello@dentally.co