As we celebrate the start of a new year and welcome 2022, the global news narrative continues to be based around the prevention of Covid-19 and the significant pressure that the Omicron variant presents and its impact on how we all live and work.
The government has asked the public sector to add contingency plans against a worst-case scenario of 25% staff absence, as part of the efforts to minimise disruption from surging infections.
For dental practices there are three areas that should be considered:
How to minimise disruption to the practice.

How to deliver patient care and how to deal with rising short notice cancellations.

Support your team and overcome staff shortages.
The Dentally team will publish a series of articles that focus on each of these areas. Whether you are an NHS practice in England looking to reach the revised 85% UDA target for this quarter, a private practice trying to balance increased demand and cancellations or a mixed practice trying to juggle multiple factors - we are here to support you.
This article provides a summary, and we will take a deeper dive in the coming days so please do keep an eye on our blog for more or talk to our team hello@dentally.co at any time.
Minimise disruption to the practice
Over the last two years, dental practices have had to adapt in multiple ways to ensure that both staff and patients can be on-site safely and minimise cross-infection.
Omicron infection rates continue to surge at unprecedented rates and with short incubation periods. This means that fallow periods need to be maintained, PPE and cleansing times are even more critical.
Importantly, online tools that support patient admin outside of the practice such as form completion, medical history, check-in and payment links continue to be absolutely essential - ensuring that patients have very little 'in person' contact with non-clinical staff.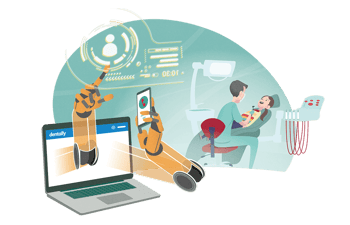 And of course, you also need to manage your appointment book, to ensure you can optimise all available surgery times, meet patient demand and ensure you don't have empty chairs. We recommend you consider the following here:
Stay connected with automated patient communications

Running your recalls

Using waiting lists

Identifying and reconnecting with lapsed patients, vulnerable patients or patients that have cancelled

Credit control and ensuring you stay on top of patient debt

Prioritising and booking in patients with unfinished treatment plans
We will talk more about cancellations and reports that can help with this in the next section of this article, so you can leverage the data and tools you have to hand within Dentally. Or you can check out our support article here.
If you would like more help in minimising and countering disruption to your dental practice from Omicron or other challenges, then talk to us about our Elevate, customer success programme. We work collaboratively with you to help you run your practice effectively. Our customer success consultants will focus on:
Automating your patient communication

Using your data to effectively manage and grow your dental practice

Keeping your appointment book full

Delivering an exceptional patient experience and building loyalty

Improving the efficiency of your surgeries

Financial management
Our team understands your challenges and will work alongside you to navigate through these difficult times. Learn more.
Covid-19 will no doubt continue to disrupt your business, practice running and plans - but there are steps you can take to ensure you stay on track while supporting your staff and delivering much needed patient care.
Deliver patient care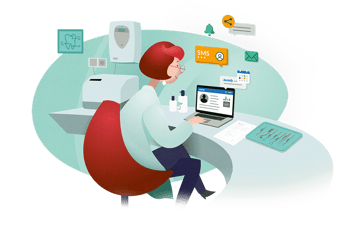 Communication remains key and the most effective way of staying in touch is by taking advantage of the automation tools within Dentally. These tools allow you to stay connected with patients and communicate whatever messages and information you need quickly and effectively to large or small groups of people.
To help prepare for continued high levels of short notice cancellations, whether the patient themselves has tested positive, a family member or they simply do not feel confident in attending the practice (read our blog) - you need to stay in touch with patients and empower them to take control of their appointments.
Patient confidence can be restored through a seamless contactless patient journey, with Covid-19 pre-screening, medical history and NHS forms completed before they attend their appointments - with an online check-in to notify the clinical team that the patient has arrived. They can then pay for their treatment remotely using a secure payment link when they leave, so they can depart the dental practice safely without the need for waiting in the reception area with other patients or staff members.
If a patient has to cancel their appointment because they are self-isolating then they can easily rearrange their appointment by securely logging into the Dentally Portal. Giving them the control to make the appointment again at a time that suits them and when their isolation period has ended - whether this is 7 or 10 days depending on their symptoms. Take a look at our Patient Portal support articles here.
If a patient does cancel, then you can add customised reasons for the cancellation which can be seen within your Appointment Report, allowing your team to track cancelled appointments due to Covid-19 more carefully and ensure they are contacted to rebook. This can also be automated to trigger a recall - so you can be sure that all patients have been contacted. Read more.
You can also use it to create a list of patients that you can immediately contact to fill gaps that do appear in your appointment book - so that you can ensure you optimise your practitioner's time in the event of cancellations.
Remember when dealing with cancellations it is also important to keep on top of unfinished courses of treatment. Some of the other reports that may also be helpful for you to run include the Patients report and Treatment Plan report. The treatment plan report will identify and prioritise patients that you may wish to see first in practice, based on unfinished courses of treatment where the patient has outstanding work which remains unbooked.
Support your staff
Allowing some of your team to work from home can help you deliver a continuation of care to patients and keep your business running smoothly. It reduces the number of staff on-site, protecting them and patients but also allows staff flexibility if they are isolating due to a family member or child or are indeed themselves but are symptom-free, and still able to work.
Arrangements like this are simple with Dentally. Your reception team (or other staff members) can work remotely, as they can easily use their computer to securely log into Dentally and carry out patient management or admin work and to make all outbound calls, perhaps to follow up or triage patients. Returning messages by email or SMS, cancelling or booking future appointments can all be done through the software, so staff won't incur costs for their phone usage at home. (More info)
Tasks list is a time-saving function that will ensure tasks and patient follow-up is completed and not forgotten during the busy day-to-day running of a dental practice - whether your staff are working on-site or remotely. (find out more).
If you are concerned about continuity and communication between your staff members that may be working from home and those that are in practice, then you can use Dentally Chat - to easily retain communication between all of the team and keep staff morale high.
Today and the future
Remember to keep checking our blog for further updates as we expand on the areas covered today - to ensure you have all the information and advice you need.
Dentally's cloud-enabled practice management software can make your life easier as a dental practitioner now as you continue to navigate the challenge of Covid-19 but also in the future, allowing you to adapt and change to whatever the future holds - providing you with the time to focus on your team and patient care.
If you would like to find out more then please talk to our team today, email us hello@dentally.co or if you are an existing customer who would like help from our responsive support team or more details about our Elevate programme then simply send us a message using our in-app chat in Dentally.