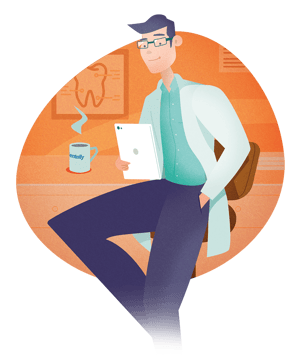 Today, cloud technology quietly features in many aspects of our everyday lives, supporting businesses to stay connected and streamlining their customers' journey. For dental practices providing an exceptional patient experience helps build better patient relationships, so ensuring your team has everything they need to do this at their fingertips, is essential.
By using cloud-enabled dental software like Dentally, you have the digital tools to transform your practice. You can streamline your processes, reduce your practice admin, deliver great patient care and manage your team. It is easy to use, and helps you keep everything moving, stay in touch and allows your team to work effectively to deliver the best possible care to your patients, whether they are on-site or working remotely.
Patient management is simple with Dentally, saving you time and resources by taking care of all your admin, tracking tasks, automating your patient communications, managing finances and all aspects of your day-to-day processes.
As well as using cloud innovation to streamline day to day work throughout your practice, Dentally also enables a more environmentally and sustainable approach by supporting your practice to become paperless. With tools such as contactless reception, the Dentally iPad app and Patient Portal, you can reduce the need for paper within the practice as patients can complete online medical history, self check in, review and electronically sign estimates and use payment links to settle their accounts. The digital experience is seamless and secure for the patient and reduces your 'green' footprint.
If you would like to learn more about the digital patient experience then take a look at our Patient's Journey here.
As it is a cloud based solution, Dentally brings you flexibility and versatility - all you need is an internet connection or 4G, and Google Chrome. It allows you and your staff to work securely from anywhere. Plus; you also further enhance the digital workflow of your practice with the benefit of third party integrations.
Dentally's API uniquely allows you to securely integrate your patient management software with a number of third party platforms to create an end-to-end clinical workflow, saving you valuable time. Whether you need to securely submit and process patient e-referrals, link your web apps, connect your online accounting software, educate your patients with waiting room TV or market your business, integrated tools work seamlessly with Dentally. (Learn more)
If you have not used a digital software solution before for your dental practice management, then moving to a paperless system can of course be daunting, but the Dentally team are on hand to cater for the needs of all your team to guide them through the process. If you would like to know more about how other practitioners have found the experience of moving away from paper, then take a look at this interview with Dr Ria Bella Patel from Drayton House Dental Practice. Click here.
Visit https://info.dentally.co/future-in-practice or email us hello@dentally.co to discover how we can make your patient management more effective. It's time to build the practice you want.