Whether you're looking for lightning-fast reporting, automated patient communications or seamless clinical workflows – you can do it all with Dentally. Our software has everything you need to create an end-to-end clinical and practice workflow, saving you valuable time and resources.
If you're taking on a new practice, making the transition from paper-based or simply looking to change software provider - choosing dental software that's complete can take the stress out of daily practice life whilst helping you to manage your time and practice more effectively.
Designed in collaboration with dentists
Dentally's cloud-enabled dental practice software is feature rich, complete with detailed reporting, patient communication tools and online booking.
The dental industry is constantly evolving, as are patient habits and expectations, so you need dental software that helps you to grow and adapt to these changes. At Dentally, we work with dentists to continuously develop our powerful tools so that you can deliver great patient outcomes, boost revenue and grow your practice. Learn about more of our cloud-enabled features here.

More time for what matters



When you choose a complete dental software, you are cutting down on admin time by default. Wave goodbye to finding a suitable provider for every stage of your workflow and switching between different software to complete tasks – from clinical to reception tools, with Dentally, everything you need is at your fingertips.
Onboarding is simple too. With our experienced team here to help get you set up and answer any queries, you'll be streamlining your onboarding process by only having to complete one set of training. Not having to complete it with multiple providers will also allow you to see the value in your new tools quicker whilst having more time to spend on what's important, patient care.
Cut down on costs without the compromise



With multiple software packages can come multiple unforeseen costs. Be it equipment requirements or additional bandwidth, at Dentally we like to make it simple. All you need to run everything on Dentally is Google Chrome and a secure internet connection.
And don't worry, regardless of your practice size, type or growth plans our software is flexible and scalable, here to support you both now and in the future. Take a look at our 'Who we help' page to discover what Dentally can do for your practice.
Increased reliability
We know practice life is hectic, that's why we leverage the power of cloud software to complete all of your backups and updates remotely with absolutely no disruption to your practice – taking just another thing off your to do list.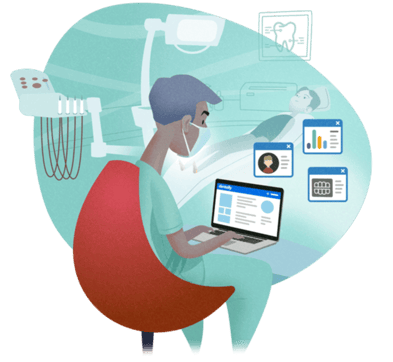 And if ever you need a helping hand, we pride ourselves on fast, responsive support. You can contact our helpful support team with our live chat feature within Dentally.
Going complete with Dentally also means that you'll have a centralized help centre for all your ongoing support needs. With advice and answers from the Dentally Team available 24/7, our Help Centre helps you to find solutions fast, so you can keep your practice running smoothly and you can feel confident that you're always getting the most out of our software.
Could Dentally be right for you? Talk to us today and discover how the market leading complete cloud solution can help transform your practice.