At Dentally, looking after your patient and practice data is one of our top priorities. Our team works continuously to safeguard the privacy, security and integrity of your account so you can rest easy knowing you're protected against any possible data vulnerability, theft or loss.
Join us over our next two blogs where we are going to be breaking down the rigorous layers of security that we've built into Dentally over the years to explain exactly how we maintain it throughout everything we do.
Let's start with data encryption
Data encryption is a security method that converts how we would usually read text into a unique combination of characters called ciphertext. Ciphertext is unreadable and can only be 'unscrambled' with the right permissions – making it extremely secure, minimising any possibility of your sensitive information being intercepted.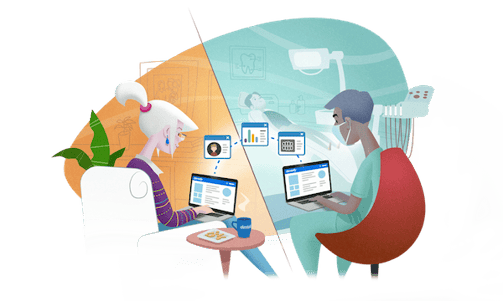 At Dentally we use data encryption end-to-end, from your login details to your application communications, it's all encrypted within the cloud. Even we can't see your passwords!
Backups
In the digital age, creating backups of our files is something that's drilled into us every day. Being cloud based, your backups with us are quick and agile – making misplaced or stolen physical patient records or hard drives a thing of the past.
Without any interruption to your day-to-day workflows, your backups are performed by us in the background throughout the day meaning you can maintain the highest security standards at all times with no physical requirement from you or your team to take any action.
Your replicated data is then stored in multiple secure locations, preventing physical data loss and ensuring compliance with all GDPR data protection protocols.
Updates
Software updates are vital to ensuring that users can benefit from all of the latest product developments, while improving performance and having any potential bugs fixed.
We understand that your team has a long list of 'to-do's', that's why we take this task out of your hands by making small, ultra-frequent system updates - usually on a daily basis. These micro updates enable a steady progression when it comes to improvements to our software's features and functionality. Dentally is all about ease of use, so you'll never be confronted with major system changes. Refreshing your browser is all it takes to benefit from our daily updates - no restarts, no downtime, no hassle.
Cloud technology is renowned for its security and as the market leading cloud solution for dental practice management, you can put your trust in us to store your data securely whilst keeping your practice running smoothly and cost-effectively.
Find out more about how Dentally takes care of your data in our next blog, or if you have any further questions, our team would love to hear from you! Get in touch today.