As we continue our practice manager focus this week, we shift our attention to performance and forecasting and how to utilise Dentally's easy to use cloud-enabled practice management features to pick up any discrepancies or problems before they become an issue.
We know that your practice is your business and that your practice managers keep everything running smoothly and successfully. At Dentally, we are consistently striving to provide the best tool kit to ensure a seamless and stress-free day for your practice manager and the wider team too.
Use our financial forecasting to understand your practice finances, monitor practice performance through chair utilisation and marketing and allow Dentally to help your practice manager make their day to day life easier. Keep the practice running smoothly and its patients happy and safe with the cloud.
Flexibility
The beauty of the cloud is the flexibility that it presents to you and your practice. This versatility will enable you and your practice manager to monitor the practice performance through several tools. From keeping track of your diary, understanding chair utilisation and running recalls and communications automatically - with Dentally, you can rest assured that your practice is running as efficiently as possible and performing well.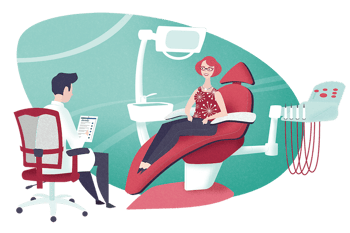 These features also enable you to monitor what is working and what is not within your practice. For example - by monitoring your practice performance, you can see which marketing campaigns bring in more patients, thus increasing chair utilisation. You can understand how recalls help to bump your numbers up and improve revenue, and you can identify areas in which improvement is necessary. Perhaps your postal marketing isn't performing as well as your social media marketing or vice versa. By identifying these elements, your practice manager can alter and edit processes to ensure that the practice is performing at a consistently high level in all areas.
Keep track of income
Of course, finances play a huge part in the success of any dental practice. Ensuring that your practice manager understands how the practice is performing and where it needs to be is fundamental to their role - help them by providing them with Dentally's easy to use tool kit. A tool kit that makes financial forecasting easy, stress-free and simple to understand. Practice managers can identify existing discrepancies before they become issues and constantly ensure that your practice makes money whilst sticking to budgets.
By using the Takings Report within Dentally, your practice manager can better understand your daily income. The report provides a summary of the money taken through your till throughout the day - this includes both online payment and in-person payment - allowing you to reconcile your books.
The Income Report is slightly different - providing a summary of all payments taken within a specified date range. It breaks down where the income has been used by treatment item, informing your practice manager or whoever is viewing it whether or not there are any unexplained monies - making it easier to keep on top of performances and identify errors. All income revenues are displayed, including private work and NHS - making the report a valuable tool for your practice.
Financial Forecasting
By leveraging the power of the financial forecasting tools within Dentally, your practice manager can ensure that the practice is prepared for the present and the future. The UDA Forecast Report helps your practice team ensure that all NHS claims are submitted on time and fulfil your NHS contract. So, you know that you're not in any danger of not being paid for work and if you are that you're aware and can take action immediately.
The Private Forecast report provides a view of all treatments going ahead within your practice in the next six weeks with your private patients. The Unfinished Treatment Report complements this by generating a list of all patients with unfinished or incomplete treatment plans - this means follow-ups can happen and new appointments can be made.
With Dentally, you can be confident that your practice manager has the perfect tool kit to ensure that they can keep your practice performing well, your patients safe and team members happy. Keep your finances in check, save time and money, and streamline your practice with the cloud. Talk to the team now at hello@dentally.co to find out more.