When was the last time you took a good look at your practice management software?
The day-to-day running of any dental practice is hectic, there are always a million and one things on your "to do" list and not to mention trying to balance your working life with your home commitments. We all crave a little more time in our lives, so have you ever thought about how your practice management software could help your reclaim some time and make things a little easier?
When you're in the business of dentistry, patient care comes first and the daily demands of practice admin can seem endless, but that is where Dentally's cloud enabled practice management software can help.
Dentally from Henry Schein One, is designed to make your day-to-day practice management simple - and sometimes just finding a short moment in your busy day to take a closer look at your existing system is worth every second invested!
Dental practices continue to face complex challenges but using the right software really can make all the difference, saving you time to focus on patient care (restoring some home life balance) and saving money amidst the rising costs of living, while providing your team with easy to use tools that allow them to work more effectively without compromising your patient's oral health.
The future in practice
Dentally's cloud-enabled dental software will streamline your processes, reduce your practice admin, deliver great patient care and help you manage your team. It is easy to use, secure and helps you keep everything moving, stay in touch and allows your team to work effectively to deliver the best possible care to your patients, whether they are on-site or working remotely. Our team of developers using the latest in cutting edge cloud technology, are constantly innovating and developing the software to ensure you have the best tools at your fingertips. We listen to our customers and are always striving to make their lives easier.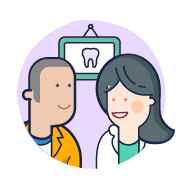 Patient management is simple with Dentally, saving you time and resources by taking care of all your admin, tracking tasks, automating your patient communications, managing finances and all aspects of your day-to-day processes.
The difference…
Dentally is all about ease. From practice admin to patient care or managing your team, our software is designed to take the stress out of daily practice life.
Save money - There's no need for expensive hardware and servers. All data is stored securely on the cloud, to keep your practice running smoothly and cost-effectively. All you need is to Chrome and go! It is stable and high performing, updated without disruption - and will never slow you down!


Save time - manage your team and your practice admin seamlessly (whether staff are onsite or working remotely) with features such as task lists, automated communications, effective automated recalls and Dentally chat.


Stay connected - keep patient communications open with Dentally, clear, concise and automated to keep your practice running smoothly and develop better relationships with your patients. You always have complete visibility and a detailed correspondence history for each patient.


Effortless Patient journey - provide a seamless (contactless) patient journey from start to finish with tools such as Dental Portal including online appointment booking, customisable medical history, self check in and payments, plus straightforward clinical records, easy to use charting and treatment plans.


Health Funds Integration - generate estimates and make claims with health funds to instantly understand what a patient will have to pay and create payments.


Powerful real time reporting - Dentally sifts through your data quickly to produce clear, easy to interpret and analyse reports, so you can make informed decisions.


Easy onboarding - simple to switch and easy to use, our onboarding team will convert your data from your existing system, so you have all the patient information you need and provide you with comprehensive training that is tailored to the mixed skills levels of your team.
Support when you need it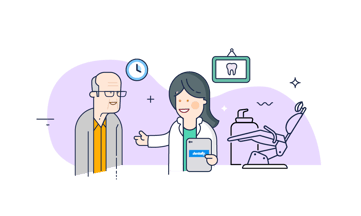 Dentally's cloud based dental software understands that running your dental practice is so much more than appointments, charting and financial. Our responsive support team is always available and ensures you get the best of the software for your practice.
As a Dentally customer you also benefit from being part of our Elevate, Customer Success programme - which you won't find anywhere else! We will work with you, using your own data insights to help you sustain, adapt and grow your business. We will focus on key aspects of your practice including:
Automating your patient communication

Using the data effectively manage and grow your dental practice




Keeping your appointment book full




Delivering an exceptional patient experience and building loyalty




Improving the efficiency of your surgeries




Financial management
Our consultants will provide you with ongoing advice and support - whenever you need it.
We will support you now and in the future, develop loyal patient relationships with our effortless patient journey and save you valuable time.
Explore our website to find out more dentally.com.au or email our team today - and remember not all dental practice management software in Australia is the same!