We have a growing team of consultants all of whom are trained in how to optimise Dentally to reach your practice goals. The Elevate team have worked out ways to look at data differently and analyse practices to find out the most efficient ways in which to help you achieve your goals. They are constantly working on ways to develop and improve the information we have available.
Our insights into your practice are crucial to the elevate team, it ensures that we can deliver customised help to each practice on the program based on their current use and needs of the software. The Elevate consultants all work together to achieve successful outcomes for you with a healthy dose of competition on the side. We all want the best success story after all!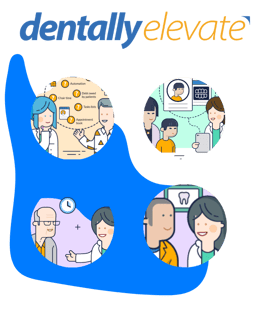 The team hold a wealth of experience and knowledge all available to your through the Elevate customer success program. They provide new perspectives and will show you how to work simpler and smarter with Dentally. We want to understand your challenges, and support you through your goals, whether that be to sustain, adapt or grow your business. They celebrate every small win with you along the way as well. It is a team effort and can be hard work, but the outcomes that we see are always worth the time.
Our consultants will always adapt the programme to your needs as no two sites are ever the same, this is a partnership and success program that is focused on you, your goals and how we can achieve them. That's why it's such a fantastic team to be a part of in the company, you can see the growth in your sites, all by supporting them through the Elevate program.
To find out more about the elevate program itself and how our amazing team of consultants can help you then head here for more information on the elevate program.