Dentally have made the decision to launch Dentally Elevate - a new way to support you and your practice on every step of your Dentally journey. We are constantly finding new, innovative ways to provide the best cloud-enabled practice management software - making the transition to the cloud easy, efficient and enjoyable.
The Elevate programme will provide your practice with a consultant 100% dedicated to seeking to understand your practice priorities and aspirations. Your adviser will tailor Dentally to your individual needs supporting you and helping you understand your business opportunities - backed by benchmarked data and delivering you tangible outcomes like so many other practices across the UK. After all, the evidence speaks facts, and we want to reassure you that with Dentally, you are in the best cloud-based hands.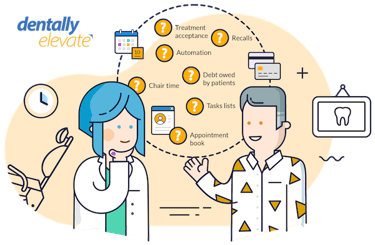 Elevate, truly is all about you - that is why we tailor the programme to your wants and needs. Perhaps you are new to Dentally and need more support - in that case, we can arrange more weekly calls. For those who have been a Dentally customer for some time, call numbers can be reduced - suiting you. Regular email updates can be sent to all Elevate customers - so no matter your call numbers, you can always keep up to date with your consultant. We provide you with as much or as little time as you need based on your personalised practice requirements and use of features and tools.
After the tumultuous few years dental practices across the UK have had to deal with as a result of COVID-19, now more than ever, we must be here for you to help you find your feet once more and get your practice back up and running in the most efficient and effective of ways. The Elevate programme can help you to do exactly that. 92% of our customers told us that the programme had a significant or major impact on their business outcomes in 2021.
For no added cost, just a little bit of dedicated time set aside to talk support and how we can help, the Elevate programme is available to all Dentally customers to help streamline your practice. To book an initial call with your own Elevate consultant, click here to register and book a convenient time for you online. Elevate your practice now and leverage the power of the cloud.