Opening a new dental practice or taking the step to become a practice owner from being an associate at a practice involves a lot of careful planning to develop and build a thriving business.
Whether you are opening a completely new greenfield dental practice or purchasing an existing practice, you will have an extensive list of tasks to complete in order to get your practice up and running under new management or negotiating building work to open a brand new site.
You will of course be thinking about everything from utilities, investing in equipment for the surgery, reception area, signage, staff recruitment and marketing to encourage patients to book in. And on top of all these, you will be considering how best to manage your patient care and data, compliance and workflows.
The technological landscape has changed, and so your choices for practice management software has widened. So it is worth taking a closer look to find exactly how these tools can benefit your new practice and help you develop and grow your dental practice and deliver exceptional dental care to the patients in the area you are operating in. You also need to consider what works now and how it will support you in adapting in the future.
Don't just take our word for it!
Dr. Cihad G. Atlihan recently took over Dr Mesut Komser Dental Surgery in Blair Street, Melbourne, which was a paper based practice that has been serving the local community for the past 30 years. During 2021, Dr Atlihan decided to move to a digital practice management system to modernise the practice and its processes and chose Dentally. He talks to us about his experience, read more here.
A flexible solution
Leveraging the power of cloud technology to make dentists lives easier is at the heart of the Dentally ethos - and its cloud-based practice management software solution can transform your dental practice and allow you to adapt to the challenges that may arise in the future. Whether it is the ongoing and far-reaching repercussions of the COVID-19 pandemic or other factors, you need a solution that allows you to provide care and attention to your patients and the agility to adapt to whatever the world throws at us!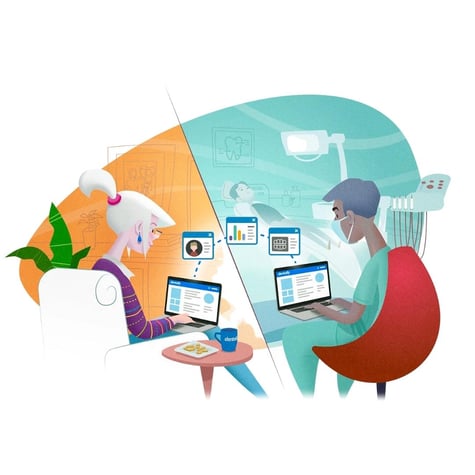 Dentally from Henry Schein One, is brought to you by a team of people who understand that you need much more than a solution that makes appointments and records a clinical record. You need a platform that leverages the full potential of cloud technology so that you can effectively run all aspects of your business and deliver exceptional patient care safely through a seamless digital journey.
Dentally allows you to be more flexible in your approach to the business of dentistry, providing telephone triage, allowing patients to manage their own journey with your practice and book online, running safe contactless reception areas and to manage your team's workloads.
It can also help you by automating patient communications, charting and reporting on every aspect of your practice (in real-time), so practitioners are always ahead of the game when it comes to patient care, marketing and finances. All of which are vital to building a thriving sustainable practice that allows you to exceed patient expectations and build loyalty.
If in the past, you have always used a server-based or a paper-based practice management system, then it is useful to also know that you don't need a large amount of data or expensive high specification IT or hardware to run Dentally.
Save money on IT
If you are moving from a server based practice management system or you have been paper based and are looking to implement a digital system, then you will also find that you will be able to save money on your IT. To run Dentally you don't need a huge amount of data and you don't need to invest in expensive servers or high specification computers or devices.
Dentally is a true cloud based software, so all you need is an internet connection and to run Chrome web browser. It runs on unlimited computers and is compatible with a number of different operating systems. If on the rare occasion you lose your internet connection, then you can use a data hotspot on your mobile phone to use 4G or you can have a backup router that has a SIM card.
With updates from the ADA and or to benefit from new updates in the software, you benefit from daily updates which happen automatically throughout the day - without disruption to your team and with no restarts or downtime. Dentally just takes care of this for you, so you can ensure your software is up to date and backed up safely.
Data security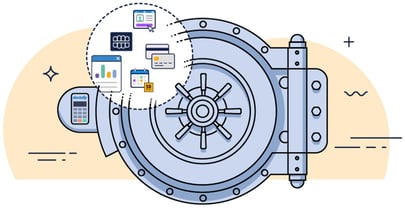 Another key consideration of course for any new practice owner is ensuring the security of their sensitive patient records. Using cloud-based software data is much safer than hosting it on a local computer or server in a cupboard, which also takes up valuable space in your building. At Dentally we not only encrypt your information within our platform, we also ensure that your users are logging in securely using our privacy features to give you complete peace of mind.
Staffing
Attracting and retaining staff for your practice will be right at the top of your to do list as you set up your new business. Indeed you may have existing staff members that you wish to retain - so having the tools that enable them to do their work effortlessly and effectively is important.
We also appreciate that if you are moving from an existing system, that your team may naturally feel a little nervous but we work with you collaboratively to alleviate any fears and ensure your staff are fully trained on our easy to use software, are able to learn and embrace it.
Managing workloads, setting tasks and internal communication is all made simple with Dentally's easy to use reporting, tasks lists and chat functionality. So your team can work together and enjoy their work - ensuring they have time focused on caring for patients.
Connecting your apps
Another area you might also like to consider as part of that seamless digital journey is the integration with third-party platforms.
Dentally's API allows you to securely integrate your patient management software with a number of third party solutions to create an end-to-end clinical and practice workflow to save you time and resources. Whether you are looking to connect your web apps, market your business or connect your accounting software, you will find integrated tools work seamlessly with Dentally to ensure you are running the practice processes that work for your needs.
The future in practice
At Dentally we support your practice at every step and we also have a comprehensive customer success programme, Elevate, to really help you improve and grow your practice and get the best out of our software.